Share with all your friends!
---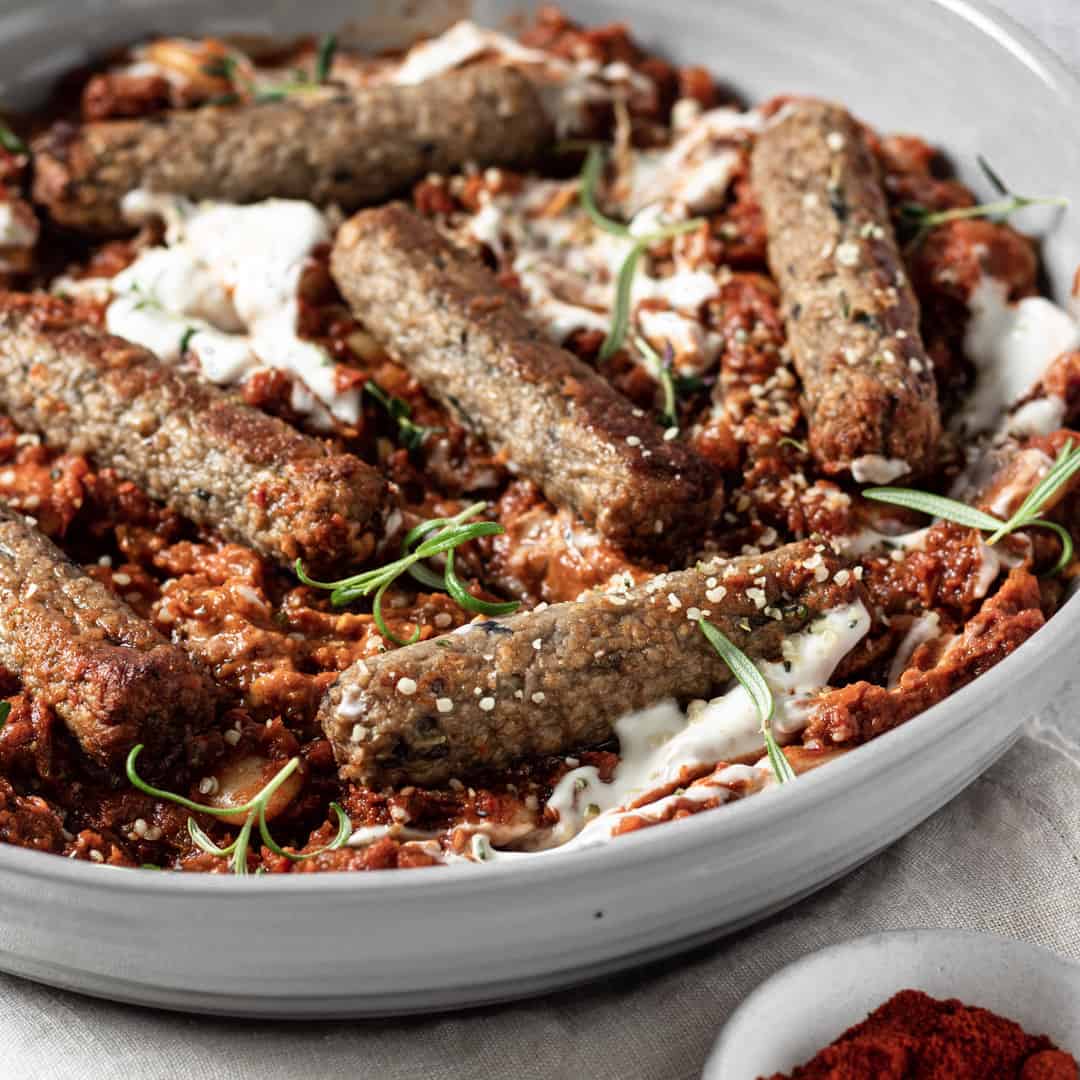 why you need to make this smoked tomato sausage stew
Is there anything better than a warming and comforting stew in the depths of winter? This for me is the perfect dish to be curled up on the sofa with on a Sunday afternoon. A no fuss dish is a weekend winner and this stew goes perfectly with crispy roasties or crusty bread. You have got to give this Smoked Tomato Sausage Stew a go!
Some other reasons why I think this stew is particularly good:
Quick and easy to make: ready from start to finish in less than 30 minutes
Batch cook: the recipe is for 3 people but can easily be doubled to feed more people
High in protein: through the use of both vegan sausages and butter beans
One pan: you are only going to need one pan to make this recipe, and everyone loves a saving on washing up, right?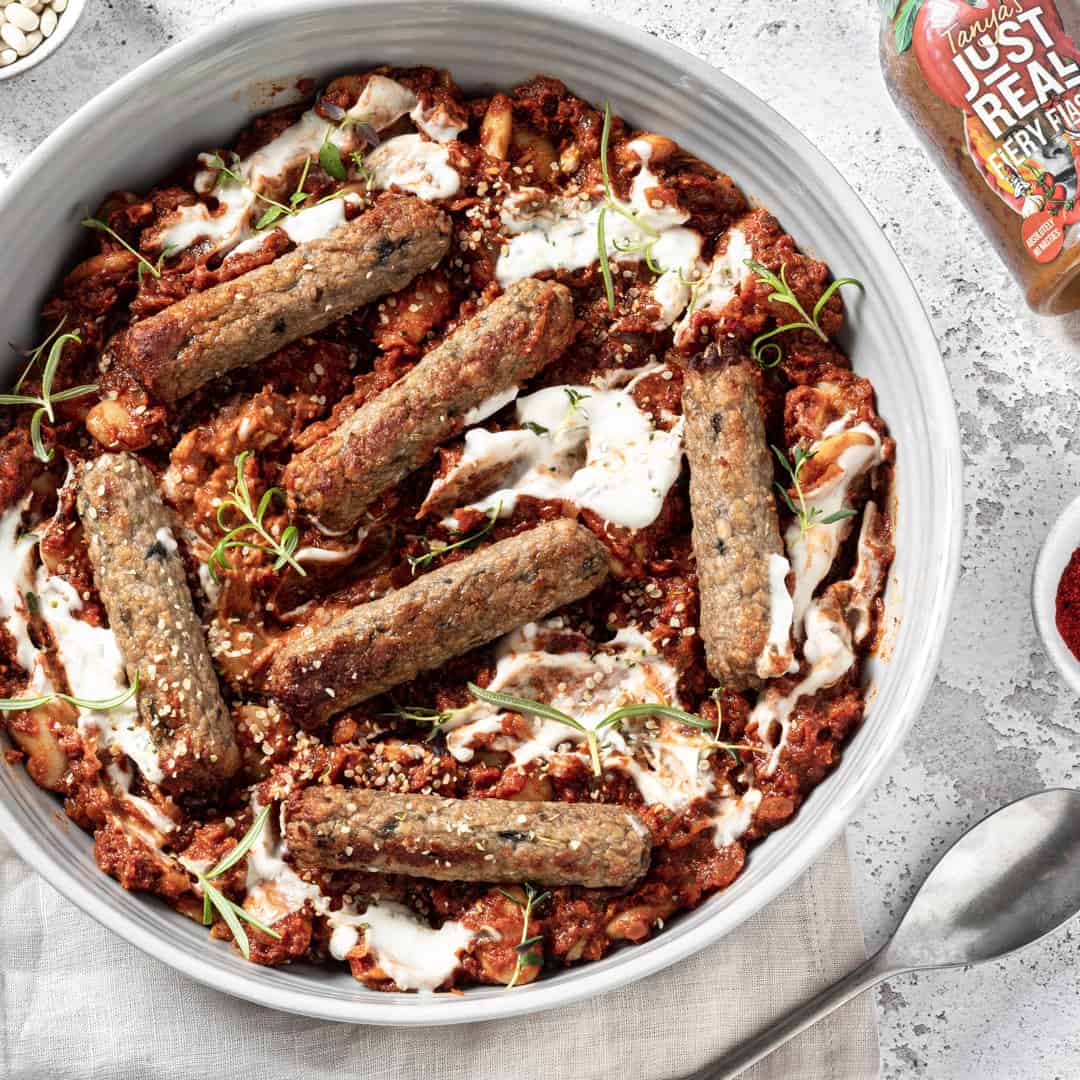 ---
Smoked tomato sausage stew – Recipe notes
** It is worth investing in good quality chopped tomatoes as this forms the base flavour for the dish. Brands like Mutti, Cirio and Mr Organic are all available in major UK supermarkets and I find tend to produce a great flavourful sauce
** I've used tinned beans for ease and speed, but you can use dried beans. It just means they are going to need soaking and boiling which will need to be accounted for in the time it takes to make the recipe
** If you are looking for side dish inspiration, this stew would pair perfectly with my Rosemary Roasted Potatoes
---
smoked tomato sausage stew – recipe ADAPTIONS
** The recipe references 'plant based sausages' so you can pick your favourite brand. If you are looking for sure fire winners, try Linda McCartney's red onion & rosemary or Sainsbury's shroomdogs. Both will work well in this recipe
** Whilst this version of the recipe uses butter beans, you could swap for an alternative white bean. Chickpeas or cannellini beans would work equally well
** The olive oil can be substituted for any other oil you have handy. Oils like rapeseed, avocado or macadamia nut oil will work well, but I'd avoid coconut as it will affect the overall flavour of the dish
Print
Ingredients
1 Pack of plant based sausages

2 Red onions, finely chopped

4 Garlic cloves, thinly sliced

1 Tsp dried rosemary

1 Tsp dried thyme

1 Tbsp smoked paprika

1 Tbsp olive oil

1 Tbsp tomato puree

1 Tbsp balsamic vinegar

2 Tins chopped tomatoes

1 Tin butter beans, drained and washed

1 Vegetable stock cube, crumbled

Dairy free plain yoghurt
Print
Directions
In a large frying pan, add a tbsp of olive oil, red onions and the chopped garlic. Fry on a medium heat until starting to caramelise which is approx. 3-4 minutes
Add the dried herbs and spices and tomato puree to the pan and stir through. Leave to cook for a further 1-2 minutes
Next add to the pan the chopped tomatoes, balsamic vinegar and crumbled stock cube. Bring to the boil and then simmer for 15-20 minutes until thickened
Whilst the sauce is thickening, cook the sausages as per packet instructions
Once the sauce has thickened, add the butter beans to the pan and simmer for a further 5 minutes so the beans have the opportunity to pick up some of the flavour of the sauce. Season with salt and pepper
To serve garnish with fresh rosemary and swirls of dairy free plain yoghurt alongside you preferred side dishes. ENJOY!
---
I can't wait to hear what you think of this Vegan Dan Dan Noodles so please leave a comment below and tag me in your wonderful creations! I'm @fortheutteroffood on Instagram and use the hashtag #theutterloveoffood. I'm also on Facebook – please say hello!
---
---
---