Share with all your friends!
---
Jump to Recipe
Print Recipe
---
Why I love this parsnip & apple soup!
Parsnips are so much more versatile than just an accompaniment to roast dinners – their creamy texture is perfect for creating soups! You definitely need to make this parsnip & apple soup.
I first got the idea for this soup, having been given quite literally bags and bags of homegrown Bramley Apples. My parents have an apple tree in their back garden which always produces a glut of fruit. So each year I am gifted loads of delicious apples that I dutifully cook down and puree, before getting to work on what recipes I can use them in.
One weekend I had some spare parsnips in the fridge and came up with the idea of marrying the parsnips and apple together. Pairing apple with parsnips is such a winning combination, but one you don't see too often. The apples give a subtle sweetness that enhances the creaminess of the parsnips, honestly this soup is next level!
Some other reasons why this soup is brilliant:
Bread dunking: this thick and creamy soup is perfect for dunking warm crusty bread
Make ahead: the soup itself will keep in the fridge for a few days, but it is also freezable as long as it is in an airtight container
Christmas day starter: this soup would make a perfect starter for your Christmas Day meal
Pasta sauce: it's thick enough that you could use it as a sauce to coat pasta. 
Whilst this recipe is for 6 portions, feel free to double the quantities and make more to freeze, so you can enjoy at a later date.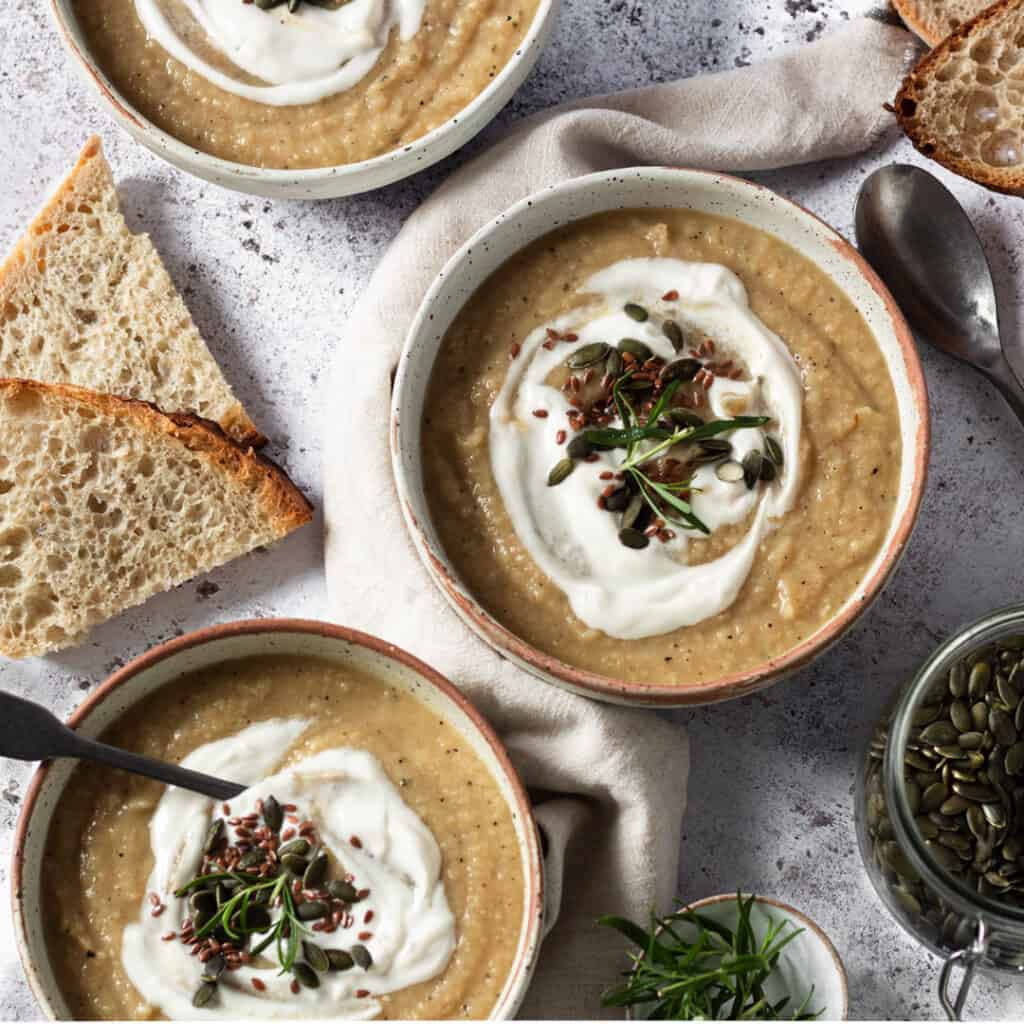 ---
parsnip & apple soup – Recipe notes
** Keep the skins on the parsnips, just give them a good wash before roasting them. Using the skins keeps in the nutrients and cuts down on food waste
** Whilst this recipe uses Bramley Apples, any apple will work. Just try to pick a British variety to cut down on the food miles.
** To make the apple puree, wash 10 apples, then core and chop into small pieces (if you want a smoother, more consistent colour to the sauce, you will want to peel the apples; otherwise, keep the skins on.) Add these apple pieces to a pan with a splash of water and cook down until soft and mushy. 
** The soup will last in the fridge for a few days, or freeze once cool. It will last a couple of months in the freezer as long as it is in an airtight container
---
parsnip & apple soup – recipe ADAPTIONS
** Use any leftover vegetables in your fridge and try adding these to your soup so they don't go to waste
** Any colour onions will work – red or white.
** Any mild flavoured oil will work; it doesn't necessarily need to be olive oil. Avocado, rapeseed, nut oil would all work as well
** This recipe is quite heavy on garlic, so if you aren't a fan you may want to tone it back a little
** Add dried chilli flakes if you prefer your soup to be a little spicier
** I used a vegetable stock cube to create my stock. But, you can boil down your vegetable trimmings to make a just as tasty variety instead. This also cuts down on food waste.
** If you don't have maple syrup in your cupboard, any other liquid sweetener will work. Try agave or date syrup to achieve a similar flavour
topping options
This soup can be enhanced further with the addition of toppings / garnish. I have put a few of my favourite suggestions below:
** In my opinion, soup should always be served with warm crusty bread. But you may well disagree! 
** If you have stale bread at home, toast in a bit of oil and make croutons
** Swirl natural plain yoghurt into the top of the soup (just like I have done in the pictures!)
** Top with toasted seeds for extra fibre and protein
** Broken up seed crackers also work well as a topping and add a lovely crunch
Print
Ingredients
Soup Ingredients

1kg Parsnips, washed and chopped into 2cm chunks

1 Garlic head, cloves peeled

2 Fresh rosemary sprigs

2tbsp Maple syrup

4 Onions, thinly sliced

400g Apple Puree (see notes above on how to make the apple puree)

1.5Litres Vegetable stock

Oil

Salt & pepper

Garnish

Plain unflavoured yoghurt

Toasted seeds

Rosemary sprigs
Print
Directions
Preheat the oven to 180oc
Place the parsnips, garlic, rosemary, maple syrup, salt & pepper in a roasting tin, so the ingredients form a single layer. Drizzle with some oil
Roast for 20 minutes turning halfway
Heat a saute pan on a low heat and add the onions. Cook for 15 – 20 minutes until soft and caramelised. Don't rush this step to ensure you get the most flavour out of the onions
Add all ingredients to a large saucepan including the stock, bring to the boil and then simmer for 5 – 10 minutes
Blend all ingredients together in the saucepan with a hand blender until smooth
Pour into bowls, top with the garnish and ENJOY!
---
I can't wait to hear what you think of this Parsnip & Apple Soup so please leave a comment below and tag me in your wonderful creations! I'm @fortheutteroffood on Instagram and use the hashtag #theutterloveoffood. I'm also on Facebook – please say hello!
---
---
---