A healthier spin on traditional nachos these Loaded Mexican Potato Wedges are loaded with black beans, guacamole, salsa and vegan sour cream to deliver full on Mexican flavour. Packed full of protein and fibre, it delivers an easy to prepare balanced meal option.
---
---
What Potatoes Should I Use for the Loaded Mexican Potato Wedges?
This recipe used white potatoes because that is what I had available at the time, but the wedges can be made with either sweet potatoes or white potatoes.
If opting for white potatoes the best varieties to pick in the UK are, King Edward, Maris Piper or Russet, all of which you will find widely available in UK supermarkets.
---
How to get Crispy Potato Wedges
The key to getting crispy potato wedges comes from 2 key steps:
Rinsing/soaking your wedges prior to popping them in the oven and then patting them dry
Preheating your oven and the oil on the baking tray prior to adding the wedges to them
These steps help to ensure you get perfectly crispy potato wedges to load with your Mexican toppings.
---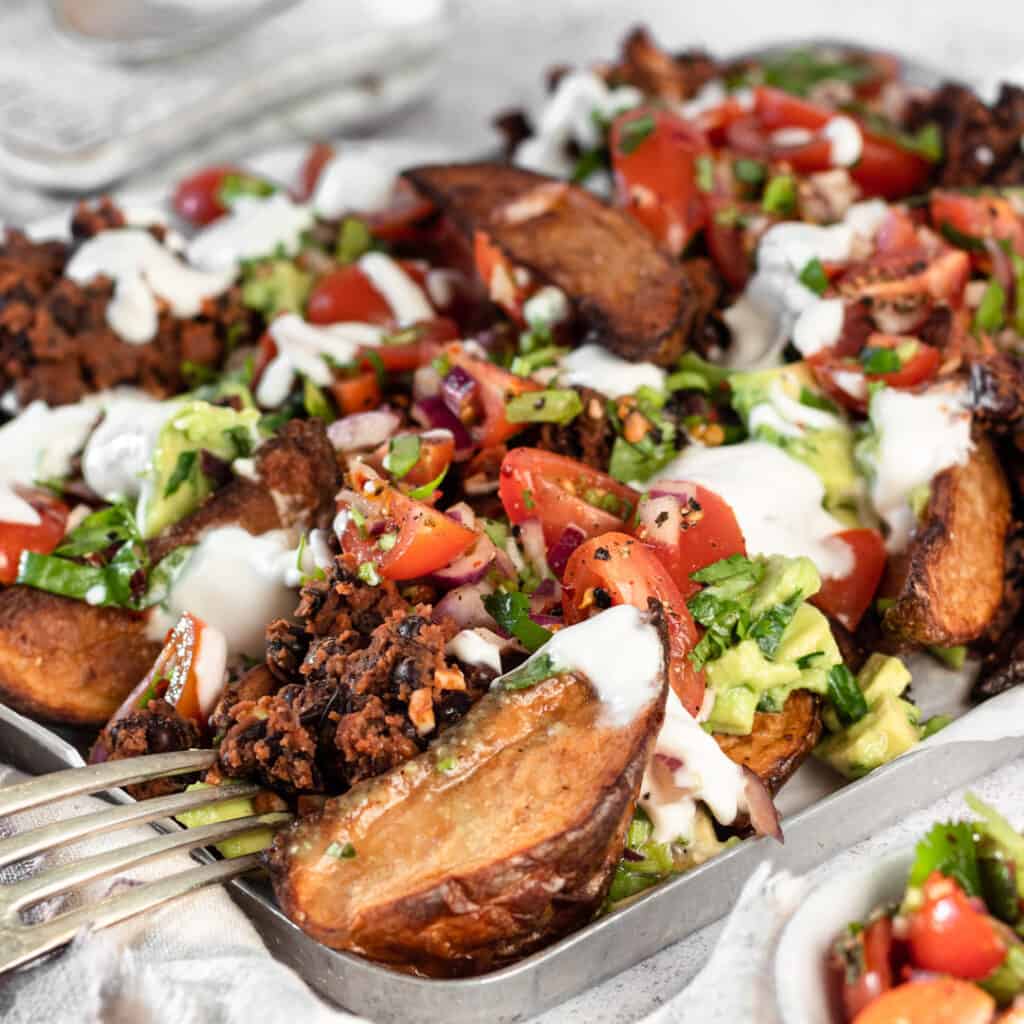 ---
How to cut your potatoes into wedges
First up, you want to make sure you give your potatoes a good wash to remove any residual dirt. You want to keep the skins on to increase the nutrient content, just give the potatoes a good scrub before hand.
Take each potato length-ways and cut in half. Then each half, cut in half again and then guess what, cut in half again.
In total each medium sized potato should give you 16 wedges. This will depend a little on the size of the potato, smaller potatoes you may only get 8 wedges.
---
Why do I need to rinse my potatoes for these Loaded Mexican Potato Wedges?
Rinsing the potatoes helps remove some of the potato starch. By rinsing them and patting then dry before adding them to the oven you will end up with a crisper wedge once cooked. However, if you are short on time you can skip this step.
Loaded Mexican Potato Wedges
Course: Mains, Snack
Cuisine: Mexican, Comfort Food
Difficulty: Easy
A healthier spin on traditional nachos these potato wedges are loaded with all the Mexican flavours you would expect whilst delivering a tasty well balanced meal
Ingredients
Potato Wedges

4 Medium white or sweet potatoes, washed and skin on

1/2 tbsp Olive oil

Black Beans

1 Can of black beans, drained and rinsed

2 tbsp Tomato sauce

1 tsp Smoked paprika

2 Garlic cloves, finely chopped

Salt and pepper

Tomato Salsa

12 Mini plum tomatoes, quartered

1/2 Bunch of fresh coriander, finely chopped

1 Lime, juice of

1/2 Red onion, finely chopped

1/2 Tsp Chilli flakes

Salt and pepper to season

Guacamole

2 Ripe avocados, mashed

1/2 Bunch of fresh coriander, finely chopped

1 Lime, juice of

Salt and pepper to season

Sour Cream

Vegan sour cream/plain unsweetened almond yoghurt
Directions
Preheat an oven to 200oc, add 1/2 tbsp olive oil to a baking tray and pop in the oven to heat for 5 minutes
Chop your potatoes into wedges (see above for guidance), rinse the potatoes and then pat dry
Add the wedges to the heated baking tray, toss in the oil and season with salt and pepper. Bake for 30 minutes in the oven until golden, turning half way through
Prepare the salsa by mixing all of the ingredients in a bowl and set aside
Prepare the guacamole by mashing the avocados with the other guacamole ingredients and set aside
To make the black beans, add a tsp of oil to a heated frying pan and fry the garlic until starting to turn golden
Add to the pan the rest of the black bean ingredients and mash with the back of the spoon to break down the beans. Fry for 5 – 8 minutes until it starts to come together and add 2 – 3 tbsp of water to loosen as needed (as you'll find the cooking process dries out the mixture)
Layer the cooked potato wedges on a tray and top with spoonfuls of the guacamole, black beans and salsa before finally topping with spoonfuls of the vegan sour cream/yoghurt
Notes
For best results, eat as soon as the wedges are cooked and still hot. Although the guacamole, beans and salsa will keep for a day or so in the fridge
---
I can't wait to hear what you think of these Loaded Mexican Potato Wedges so please leave a comment below and tag me in your wonderful creations! I'm @fortheutterloveoffood on Instagram and use the hashtag #theutterloveoffood. I'm also on Facebook – please say hello!