Share with all your friends!
---
Jump to Recipe
Print Recipe
---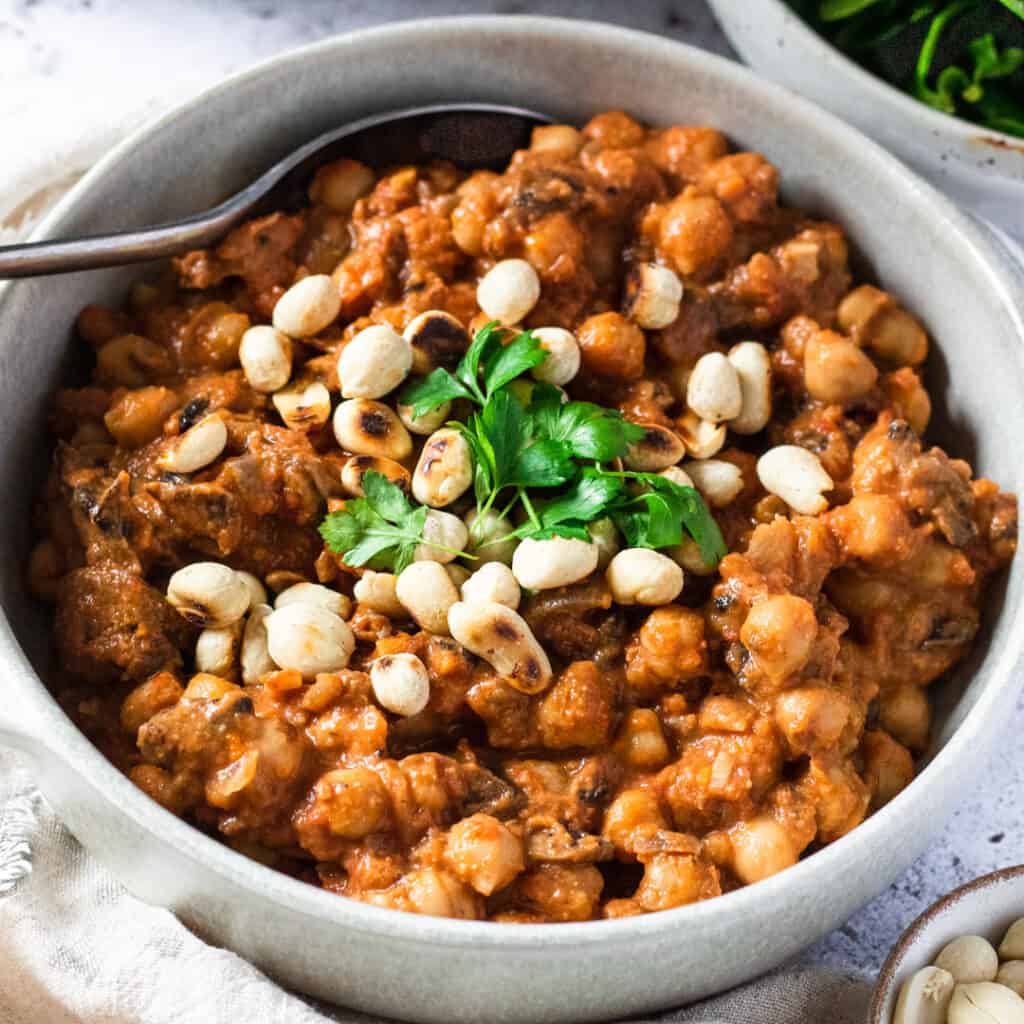 why you should make this chickpea & peanut butter curry!
It sounds odd adding peanut butter to a curry doesn't it? But trust me, it really works! The peanuts add a lovely creaminess to the curry and if you happen to be a nut butter addict, I'm sure you'll come to love this Chickpea & Peanut Butter Curry just as much as me.
Packed full of protein, this curry is also a great way of using up that extra veg lying around.
Some other reasons why you should make this curry:
Minimal washing up: this recipe needs only one pan. A sure fire winner on the washing up front
Store cupboard ingredients: you are likely to have all of these ingredients already in your cupboards. If you don't there will absolutely be a simple swap out you can make
Quick to Make: this is a recipe that will be complete from start to finish in 30 minutes
Batch cooking: this is the perfect make ahead meal. Making 6 hearty portions, it is the perfect recipe to make ahead and freeze for later
Gluten and refined sugar free
---
cHICKPEA & PEANUT BUTTER CURRY – Recipe notes
** The recipe defines the vegetables used when making it. However, feel free to add any other veggies you have lying around in the fridge. The more the merrier
** Use a nut butter that is natural i.e. palm oil free and with no added sugars. You are looking for a variety that is just made up of nuts. Brands like Pip & Nut, Meridian and Manilife do some great ones, all of which are available in the supermarket.
** Whilst traditionally a curry is served with rice or breads, I highly recommend serving it with roasted baby potatoes. This combination is one of my favourite all time meals.
---
chickpea & peanut butter curry – recipe ADAPTIONS
** I have used a vegetable stock cube for speed to make this recipe. But feel free to make your own stock by using leftover veggies. This is a great way to use up produce and cut down on food waste
** Creamed coconut can be swapped out for a can of coconut milk. Where you make this adaption, don't add the 400ml vegetable stock, instead just add to the pan the crumbled up stock cube for flavour
** Peanut allergy? The peanut butter can be swapped out for any other nut butter. Cashew butter would work well due to its creaminess. You could also try a sesame butter, although the flavour will be a little different
** Swap out white onions for red onions if that is what you have in the kitchen – it will work just as well
Print
Ingredients
2 Red onions, diced

3 Garlic cloves, crushed

15 Mushrooms, diced

2 Tins chickpeas, drained

1 Tin chopped tomatoes

400ml Vegetable stock

50ml Creamed coconut

1 tsp Cayenne pepper

1 tsp Paprika

1 tsp Ground coriander

1/2 tsp Chilli flakes

4 tbsp Smooth peanut butter

Handful of toasted unsalted peanuts
Print
Directions
Heat a large pot on a medium / high heat on the hob top
Add to the pot a glug of olive oil, onions, mushrooms and garlic. Saute for 3 – 4 minutes until caramelised
Add in the spices, peanut butter, salt & pepper and chickpeas. Coat and cook until fragrant (approximately 3 – 4 minutes).
Add the tomatoes, stock and creamed coconut, gently bring to the boil.
Leave to simmer for at least 15 minutes until thickened
Season and serve topped with toasted peanuts and fresh coriander.
---
I can't wait to hear what you think of this Chickpea & Peanut Butter Curry so please leave a comment below and tag me in your wonderful creations! I'm @fortheutteroffood on Instagram and use the hashtag #theutterloveoffood. I'm also on Facebook – please say hello!
---
---
---