---
Easter for me is not only synonymous with chocolate, but also with hot cross buns. This hot cross bun pudding recipe, couldn't be simpler to make using just 6 ingredients, ready in under 30 minutes and is healthier than the traditional hot cross bun bread and butter pudding recipes you often see.
How to make the recipe
This recipe comes together in a few easy steps:
Take your hot cross buns, slice them in half and lightly butter them before placing them in an oven proof dish in a tightly packed arrangement.
Make a smoothie mixture, which forms your sauce. I have suggested a smoothie sauce recipe below but feel free to adapt. You can add your favourite protein powder if you are looking to increase the protein content or even vary the ingredients up a little bit.
Pour the smoothie mixture over the hot cross buns, top with chocolate and bake!
It really is that simple!
---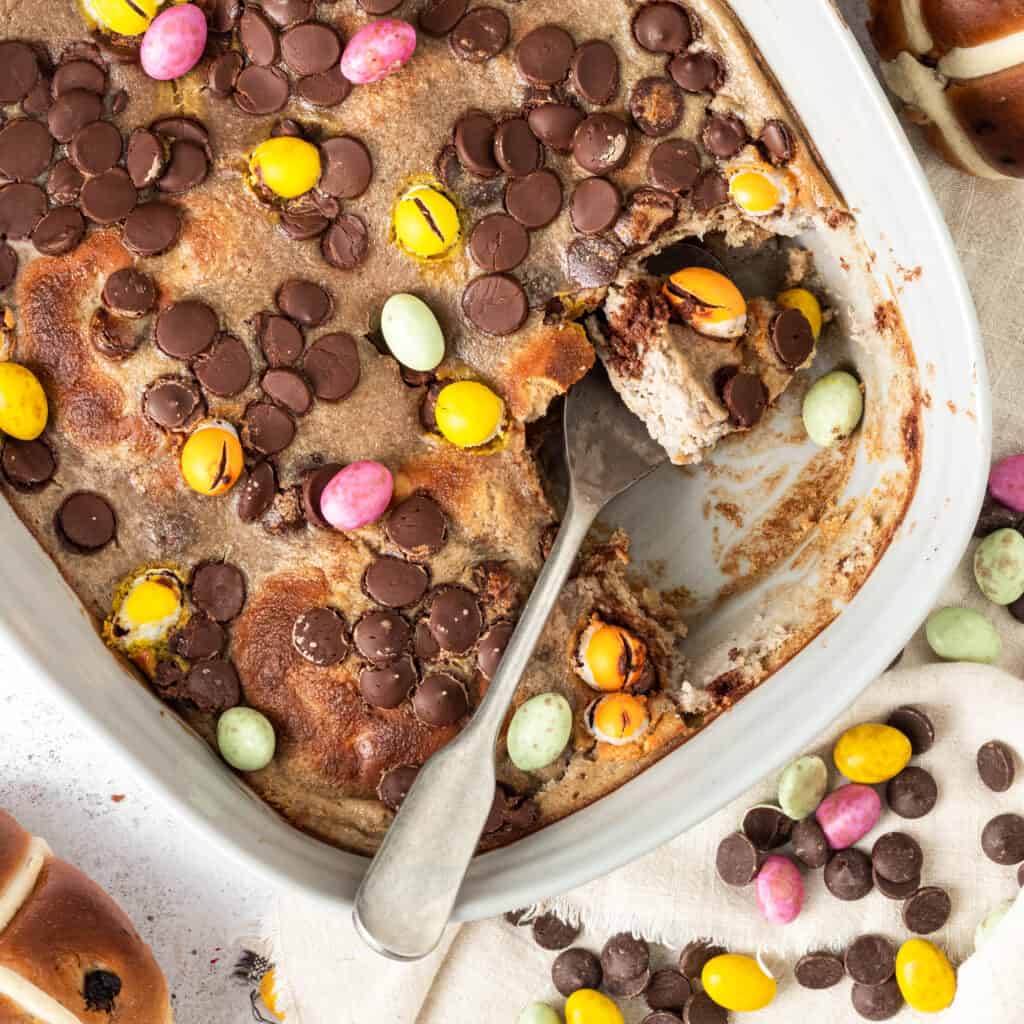 Things to watch out for when making this hot cross bun pudding
Make sure your smoothie mixture is the right consistency. You are looking for something that is halfway between a nice cream and a runny smoothie
If you are mixing up the smoothie flavour, just make sure the flavours compliment themselves. This probably isn't the recipe to add your green smoothie mix which is packed full of spinach, spirulina and broccoli.
If you aren't eating this immediately it is perfect for storing in the fridge or freezer to be eaten at a later date. Just allow it to cool completely before either storing it in the fridge for 2 – 3 days. Or portion it up and store in the freezer in an air tight container / bag for a month.
This recipe is a great one for using up old bananas, as you can use them either fresh or frozen in this recipe.
If you are using my smoothie recipe, you want to make sure you soak your cashew nuts before hand as this helps them blend into a smoother consistency.
Other recipes
If you like this recipe, why not try some of my other easy to make vegan desserts:
---
Hot Cross Bun Pudding
Course: Dessert, Snack, Baking
Cuisine: Easter
Difficulty: Easy
The perfect healthier option for an Easter Sunday dessert and also a great way to use up leftover hot cross buns or Easter chocolate. Ready in under 30 minutes and uses only 6 ingredients.
Ingredients
6 Vegan hot cross buns

2 Ripe bananas (either fresh or frozen)

60g Cashews

250ml Dairy free milk

Vegan butter

100g Vegan chocolate buttons / chunks

50g Vegan mini eggs (optional)
Directions
Preheat the oven to 200oc.
Boil a kettle and soak your cashew nuts in the boiling water for 5 minutes so they soften.
Slice 6 hot cross buns in half and lightly spread them with vegan butter.
Arrange the buttered hot cross buns tightly in a oven proof dish. I used a rectangular one and arranged them 2 x 3.
Make your sauce by adding the ripe bananas, dairy free milk and drained softened cashews to a blender cup and blend until smooth.
Pour this mixture over the hot cross buns and push the buns down with your finger tips so all of the bread is submerged in the sauce.
Stud the top with chocolate buttons and mini eggs.
Bake in a preheated oven for 20 minutes until starting to go golden brown on top.
Enjoy either hot or cold. But if you aren't enjoying immediately, see the notes below for storage instructions.
Notes
If not eating the hot cross bun pudding immediately that day. Allow to cool and store in the fridge, where it will keep for 2 – 3 days. Or freeze in an airtight container / bag where it will keep for a month. If freezing, allow to thaw completely and reheat to enjoy.
---
I can't wait to hear what you think of these Hot Cross Bun Pudding so please leave a comment below and tag me in your wonderful creations! I'm @fortheutteroffood on Instagram and use the hashtag #theutterloveoffood. I'm also on Facebook – please say hello!