If it is a healthier sweet treat you are looking for, this recipe has you covered. These healthy cheesecake brownies are low in refined sugar, full of healthy fats and gluten free. They really do make the perfect afternoon pick me up when you are looking for something sweet!
---
---
What makes these brownies healthier?
Traditional brownies are typically loaded with butter and sugar to give them that beautiful fudgey texture that we all love so much. However, with a few small swaps you can cut down these without impairing the flavour and get a healthier bake along the way!
Very ripe bananas: give a natural sweetness which allow you to vastly reduce the quantity of refined sugar you need within the bake. The bananas also add a lot of moisture, meaning you do not need oil or margarine as part of this recipe
Peanut butter: adds the fat content to the brownies helping achieve that classic fudgey texture without the need for additional oils
Raw cacao: as opposed to refined cocoa powder helps keep the fibre content high. Raw cacao is not exposed to the high temperatures that traditional cocoa powder is. As a result, it retains a lot of its health benefits, which includes being high in magnesium and antioxidants
Rich in protein: this recipe contains chia seeds and peanut butter, which makes them a protein rich brownie when compared to the traditional variety
---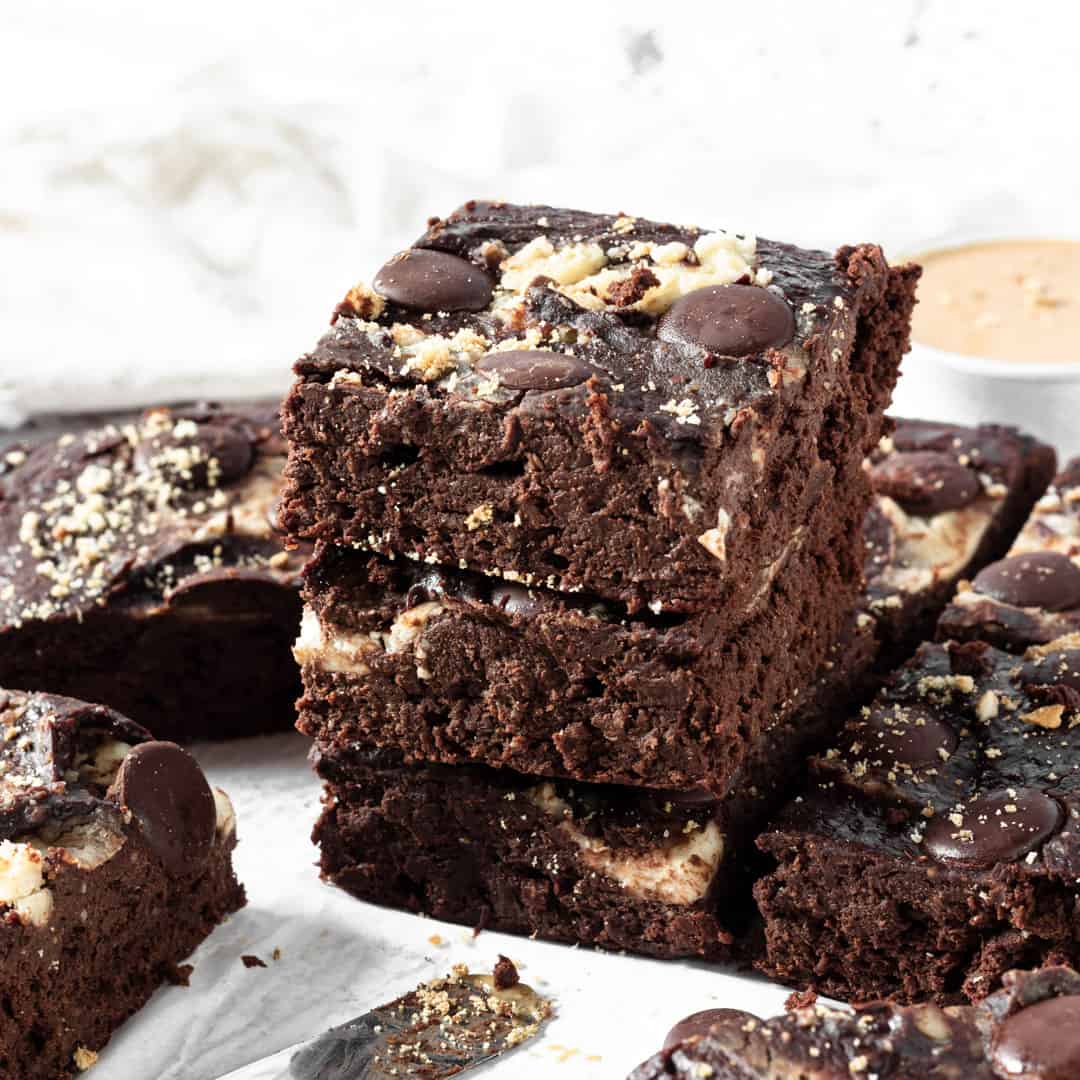 ---
Healthier Brownies – Recipe Notes and Adaptions
It is best to line the baking tin with parchment paper, but if you do not have that handy you could grease the tin with oil
As the banana adds sweetness to the bake, you really do want to ensure that they are super ripe
Pick a smooth variety of peanut butter than does not contain extra refined oils or sugars. You are looking for a natural variety that is 100 percent nuts. Brands like Meridian, Pip and Nut and Manilife do some great ones are are readily available in UK supermarkets
Swap the chia eggs for flax eggs by using the same quantity of milled flaxseed as you would chia seeds
If you are not gluten free you can swap the buckwheat flour for regular self-raising flour
The cream cheese and chocolate buttons are optional, but do add a lovely little extra to the bake. However, the brownies will still taste great if you are trying to keep the calorie count lower
As these brownies are definitely on the fudgey side you want to store them in the fridge. I confess I have not tried freezing them, but do know they will keep for 4 – 5 days refrigerated
---
Healthy Cheesecake Brownies
Course: Dessert
Cuisine: Dessert, Snack
Difficulty: Easy
These protein rich, gluten free brownies are a sure fire winner, no one will ever know they are healthy or even vegan!
Ingredients
4 Very ripe bananas, mashed

200g Smooth peanut butter

100g Light muscovado sugar

100g Raw cacao

50g Buckwheat flour

2 Chia eggs (2 tbsp chia seeds mixed with 6 tbsp water and left to stand for 15 minutes)

2 Tsp baking powder

1//2 Tsp salt

Dairy free cream cheese

Dark chocolate buttons
Directions
Pre-heat an oven to 180oc and line a square baking tin with parchment paper.
Mix the mashed banana and sugar in bowl until well combined.
To the banana mixture add the smooth peanut butter.
Mix in the chia eggs to the mixture.
Add to the bowl the raw cacao, buckwheat flour, salt and baking powder and mix until well combined.
Pour the mixture into the lined baking tin and top with small spoonfuls of the cream cheese, which you can then swirl through.
Top with a handful of chocolate buttons.
Bake in the oven for 20 minutes and leave to cool completely before cutting.
Best stored in the fridge, but will keep for a few days.
---
I can't wait to hear what you think of these Healthy Cheesecake Brownies so please leave a comment below and tag me in your wonderful creations! I'm @fortheutteroffood on Instagram and use the hashtag #theutterloveoffood. I'm also on Facebook – please say hello!