Using my favourite one bowl and one pan pancake batter mix, these fluffier than a cloud Coconut and Lime Pancakes are packed full of zesty, fresh, tropical flavours. One to make when you are wanting something slightly different to the norm, or in the depths of winter (like we are now) and want to imagine you are holidaying on a tropical island somewhere!
---
What you are going to need to make these fluffy coconut and lime pancakes
DRY INGREDIENTS
White Self-Raising Flour: using self-raising flour is important as the added rising agents help to give the pancakes their cloud like consistency. If you only have plain white flour in the cupboard, add an additional tsp of baking powder to the flour. Same if you are swapping to a gluten-free variety like buckwheat flour
Coconut Flour: I've used coconut flour here as it helps create a soft springy pancake due to the flours absorbency, but am aware not everyone will have this at home. This can be swapped for the same quantity of self-raising flour, but you may find you need a little less dairy free milk, as coconut flour is a lot more absorbent than regular flour. Or swap for oat flour, by blending the same quantity of oats, as coconut flour in a blender to get a fine milled flour
Baking Powder: this acts as a rising agent for the pancakes
Lime Zest: if you are thinking this is weird, trust me! It really helps to bring out the coconut flavour and compliments it perfectly.
WET INGREDIENTS
Dairy Free Milk: you can use any variety of dairy free milk in this recipe. For the pancakes that are pictured I used coconut milk, but cashew, soya, almond, ost will all work. Just try to pick an unsweetened version to avoid adding additional sweetness to the pancakes, for a similar reason also avoid barista milks when making these pancakes
Lime Juice: along with the lime zest about, really help to bring citrus notes into the pancake batter
Blueberries: what would a pancake be without blueberries! They also happen to pair really well with the coconut and lime
Maple Syrup: this adds a subtle sweetness to the batter, but any other liquid sweetener will work
Coconut Oil: I've opted for melted coconut oil in this recipe to help with the coconut flavour, but other similar oils like avocado or macadamia nut oil will work, or even olive oil.
---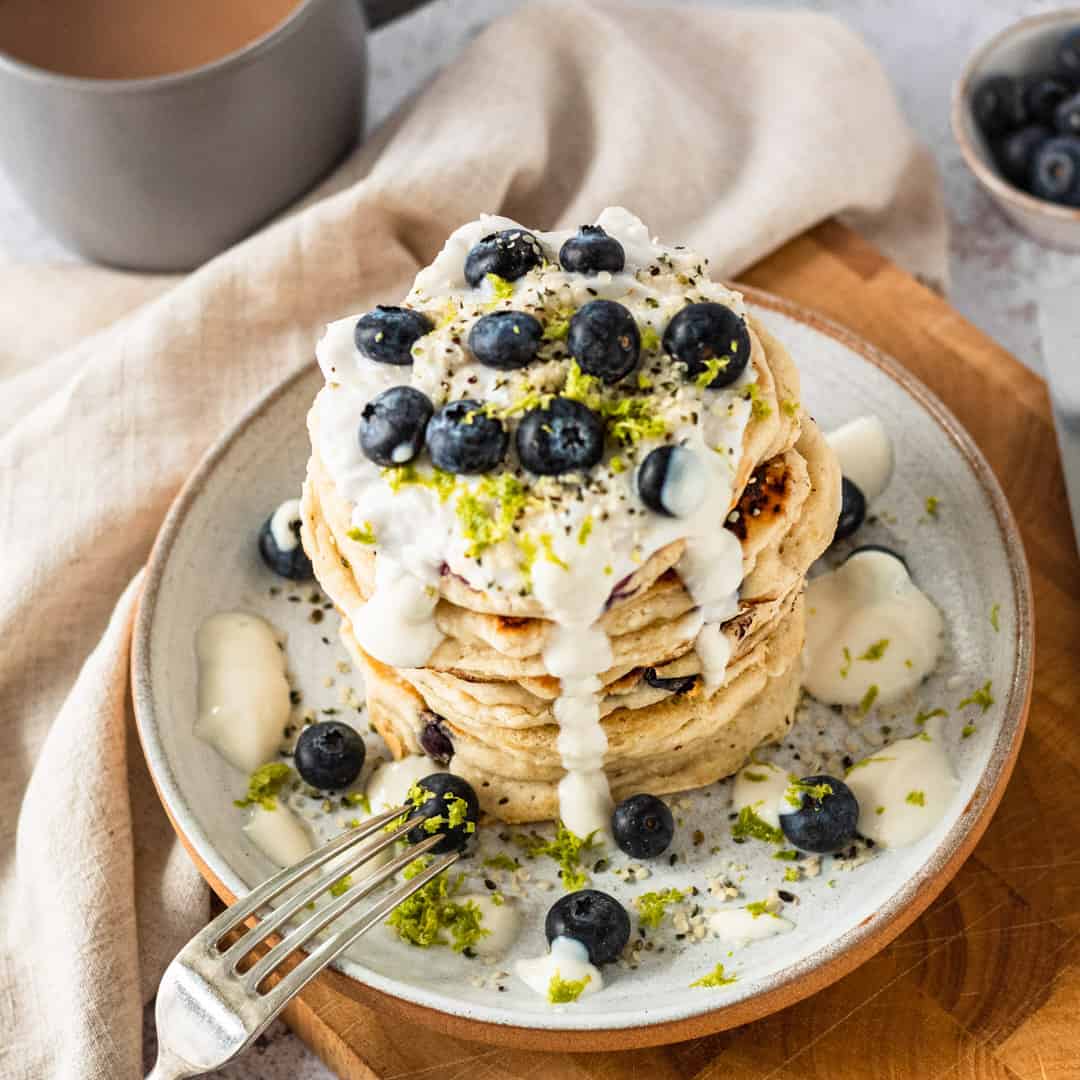 Toppings
The toppings for these Fluffy Coconut and Lime Pancakes are what takes this dish to the next level. However, they are far from complicated and can easily be swapped out for whatever you have handy in the cupboards:
Coconut Yoghurt: this add a lovely creaminess to the stack, almost like a sauce and you could even layer yoghurt between each pancake for an extra indulgent stack. U.K. supermarkets stock a wide variety of options but ideally you are looking for a plain unsweetened variety and if you are looking for a recommendation, I highly recommend CoYo.
Lime Zest: this makes the stack look beautiful because of the contrasting colour and also helps deliver that citrus flavour.
Fresh Blueberries: adding the blueberries offers a lovely additional texture to the dish. However, you can swap for frozen blueberries that have been defrosted if that is what you have available
Hemp Seeds: adding these helps deliver a complete source of vegan protein to the dish
---
Looking for other pancake inspiration
If you are looking for more pancake inspiration or coconut and lime simply aren't the flavours for you, give my Apple Pie Pancakes a go!
Lime and Coconut Pancakes
Course: Breakfast, Brunch
Cuisine: Pancakes, American
Difficulty: Easy
A pancake stack for when you want to mix things up a little from the traditional varietes. These tropical pancakes are packed full of fresh flavours to really help transport you to that desert island. Super simple to make and only require one bowl and one pan.
Ingredients (makes 8 pancakes)
Dry Pancake Ingredients

170g Self raising flour

30g Coconut flour

1 tsp Baking powder

1 Lime, zest of

Wet Pancake Ingredients

265ml Dairy free milk

1/2 Lime, juice of

80g Blueberries

1 tbsp Maple syrup

1 tbsp Coconut oil, melted

Toppings

Coconut yoghurt

Lime zest

Fresh blueberries

Hemp seeds
Directions
Place all of the dry ingredients in a bowl and combine together
Add the wet ingredients to the dry ingredients and stir lightly to create a pancake batter (you are aiming for a thick yet spoonable batter than you can pour)
Heat a non-stick pan over a medium heat with a little coconut oil
Using an ice cream scoop (or similar), add a spoonful of batter to the centre of the pan, cooking one pancake at a time (use the back of the scoop to spread out the batter and shape into a disc). You are aiming to get 8 pancakes out of the batter
Cook for 1 – 2 minutes on each side until golden (you will know when they are cooked as you'll start to see bubbles forming on the top of the batter)
Stack the pancakes onto a plate as you cook them and cover to keep warm
Once the pancakes are all cooked, stack 4 pancakes on a plate and serve topped with all the toppings
Notes
Double the recipe quantity for 4 portions
These are best eaten as soon as they are made, but will store in an air-tight container in the fridge for a day or so, just pop them in the oven at 160oc for 10 minutes to warm through before eating
---
I can't wait to hear what you think of these Coconut and Lime Pancakes so please leave a comment below and tag me in your wonderful creations! I'm @fortheutterloveoffood on Instagram and use the hashtag #theutterloveoffood. I'm also on Facebook – please say hello!